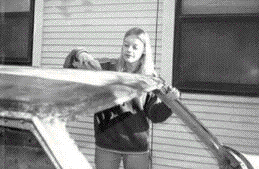 Rules of car restoration have always seemed to include: a love for the smell of gas, a need for speed and to be a guy.
However, there is an exception to every rule, and one such exception to this rule is NIACC sophomore Heather. Before beginning first-day introductions in Math for Decision-Making, Heather seemed to be a typical college student.
While attending college full time, 21 year old Heather said she works at Video Land part time.
However, after she introduced herself to the class, the class realized that there was something unique about Heather.
Heather had recently began her first car restoration project. Heather said she became interested in remodeling cars while hanging out with her dad and brother.
She said she first just watched them, but after awhile, she found herself more and more interested with cars. Watching soon turned to helping, which then turned to her starting her own project.
I want a cool car, and I can't afford to buy one already done, Heather said. So she said she has taken matters into her own hands, and with the help of her dad, is currently working on her first remodeling project.
Heather said her dad loves the fact that she's out in the shop with him working on cars. My dad loves it, Heather said, and he's getting me into drag racing too.
Her current project is restoring a 1969 Dodge Dart. Heather's car is currently torn apart, with just the body left, so now she will begin to start rebuilding and remodeling.
Then, when the body work is completely finished, she said she plans to paint the Dart plumb crazy purple.
Heather said it will take a while to get her Dart done because there is a lot of work that has to go into it yet. Also, restoring cars is just a hobby, so other things like school and work normally have to come first.
Heather said she hopes to have her Dart done by the time racing season starts next year so she can race with it in Humboldt, Iowa.
She said she has chosen to race there, because her dad and brother both race there. Heather looks forward to this year as her first year of drag racing.
A love for the smell of gas, a need for speed, and to be a guy, are no longer the rules of car restoration. Heather represents one exception to that rule, and she said she enjoys being one of those exceptions.